Support: Free resources
We provide two different documents that you can use to show you are a participant in this important study.
These are both found in the Resources section from the link on the top menu when you login to your account.
You can also access our regular zoom chats and many different Telegram groups.

---
Letter of participation
This letter was designed to assist those participants who have not taken any Covid injections and may be facing discrimination at work or in accessing services.
The letter reads:
Dear Sir/Madam

Please be advised that the above is a member of the Control Group Study and as a participant they are compelled to remain unvaccinated for the duration of their participation in this study.

The study aims to provide long term safety and efficacy reporting of the SARS-CoV-2 mass vaccination programs and compare the health outcomes of the unvaccinated against the vaccinated population.

It is with great courage that our participants have volunteered to be part of this study, to remain unvaccinated and to contribute their health data during this time, and as such we are resolute in ensuring that they are not discriminated against as a result of their participation.

Thank you for your understanding and support

The letter is signed by one of the founders of the Control Group and by Dr. John Rogers, who is part of our Scientific Committee.
Note: You need to create a digital Vaccine Study Card first, as this will appear on the letter.
Create your letter
From Participation Letters, select the participant you wish to create the letter for
Press the orange Create Letter button
Enter the name and address you want displayed on the letter in the Address box that pops up
Choose the letter language from those available (we will be adding to this)
Press the orange Create Letter button
Created letters will be displayed under Downloads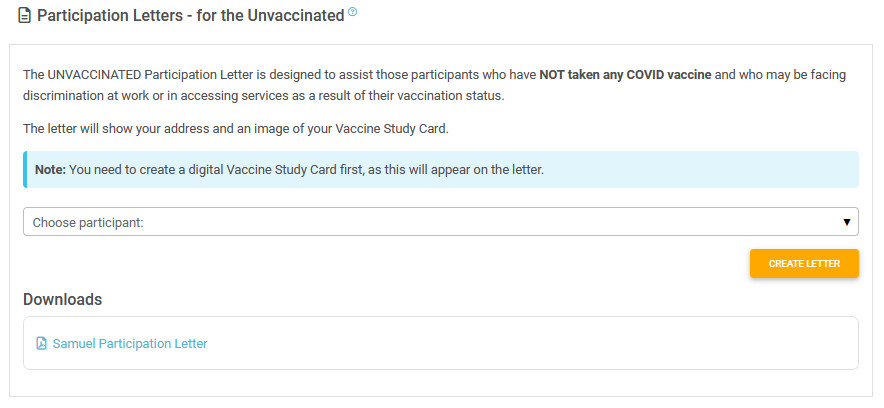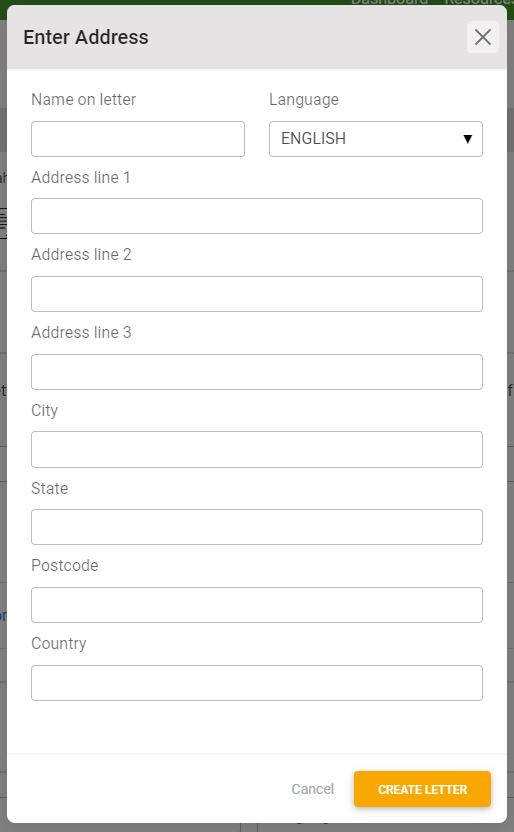 To view your letter
Click on the created letter to download and view it.
Certificate of participation
This certificate is designed for all Control Group members and shows your name, date of joining and the QR code that links to the confirmation on your Vaccine Study card.
This certificate shows that the Control Group study is endorsed by the World Council for Health .
Note: You need to create a digital Vaccine Study Card first, as its QR code will appear on the letter
Create your certificate:
From Participation Letters, select the participant you wish to create the letter for
Choose the certificate language from those available (we will be adding to this)
Press the orange Create Certificate button
Created certificates will be displayed under Downloads