Support: Get Printed Cards
There are two cards available from the Control Group at present: the Vaccine Study card and the new Health Card.
Both cards are available in a growing number of languages.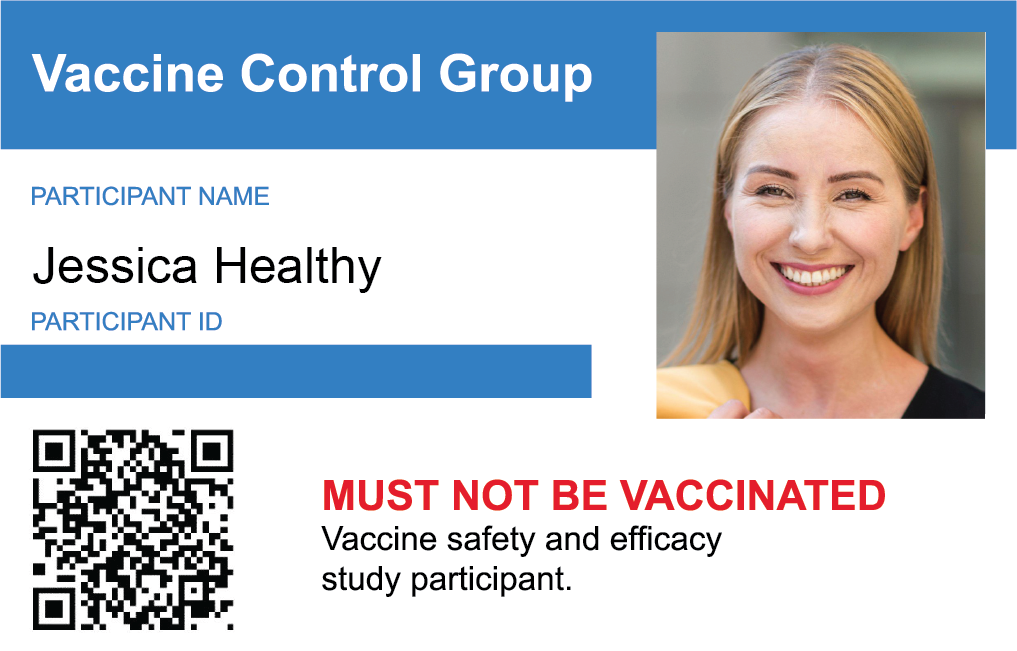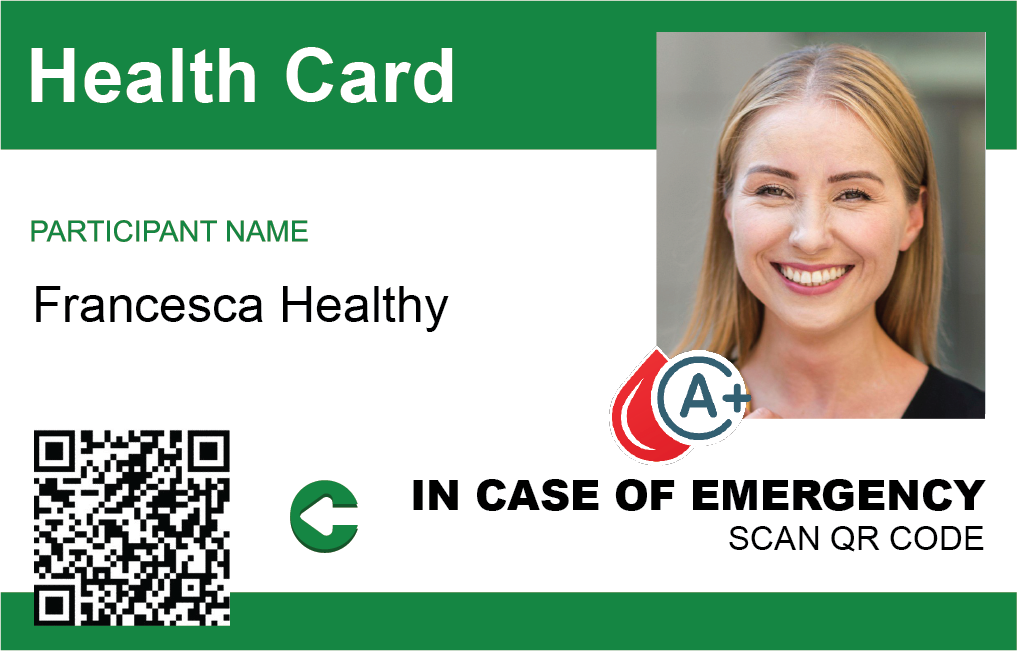 ---
Create a digital card
Your Dashboard card with show links to:
Create Health Card and Create Study Card in red if you have not created them yet.
Study Card and Health Card in blue if you have created them.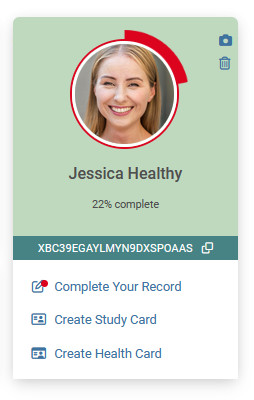 Click the card you want to go to the card management page, where you can create, edit and delete Health cards and Study cards.
The example below shows the Study Card, and it is the same process for Health cards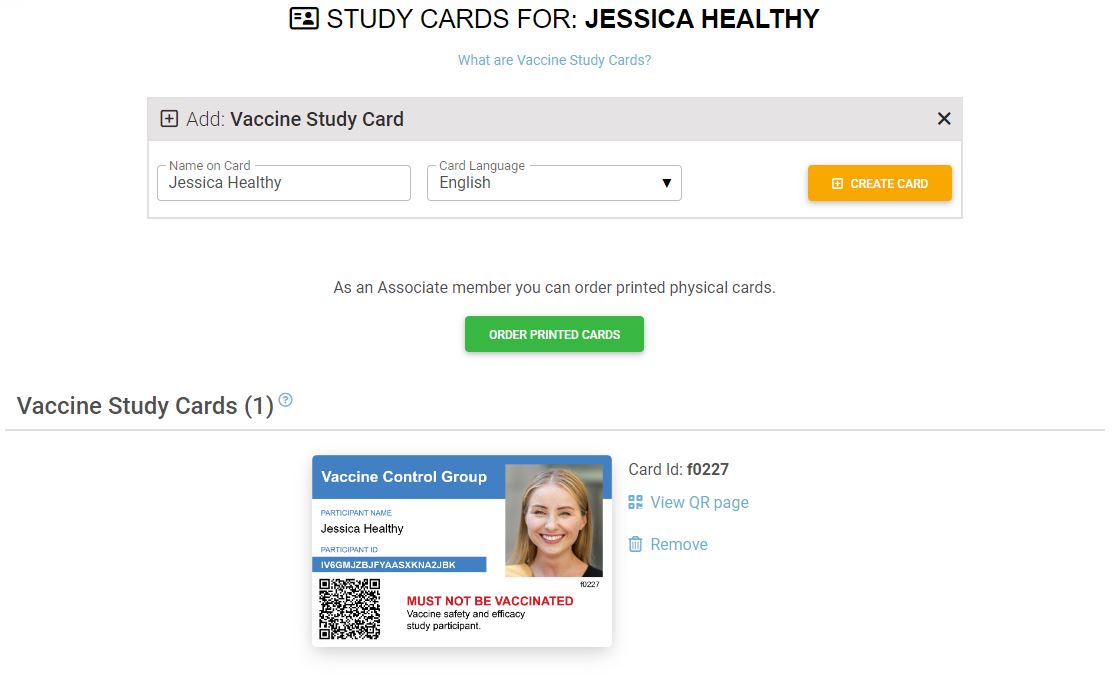 Name on Card: edit the name on the card if necessary.
There are a limited number of characters that will fit on the card, so please ensure you adjust your name to fit the space as shown on the card.
Card Language: there are a growing number of language options available.
You can have multiple language versions of each (where available)
Order cards: Associates will have the green ORDER PRINTED CARDS button, we recommend creating Cards for all your household before ordering to save on postage costs
View your QR Code page
To view the QR page for your Health or Study card:
Scan the QR code on your physical card
or
Log into your account and click on Health Cards or Study Cards on the Participant card on the main dashboard
Click on View QR page next to the card you wish to view
Vaccine Study card QR code page
The QR code confirms you are a participant in the study, with an image of your card and a tick, followed by a request that you not be discriminated against because of your vaccine status, followed by flags representing the countries of our participants and finally, extracts from a selection of Human Rights codes.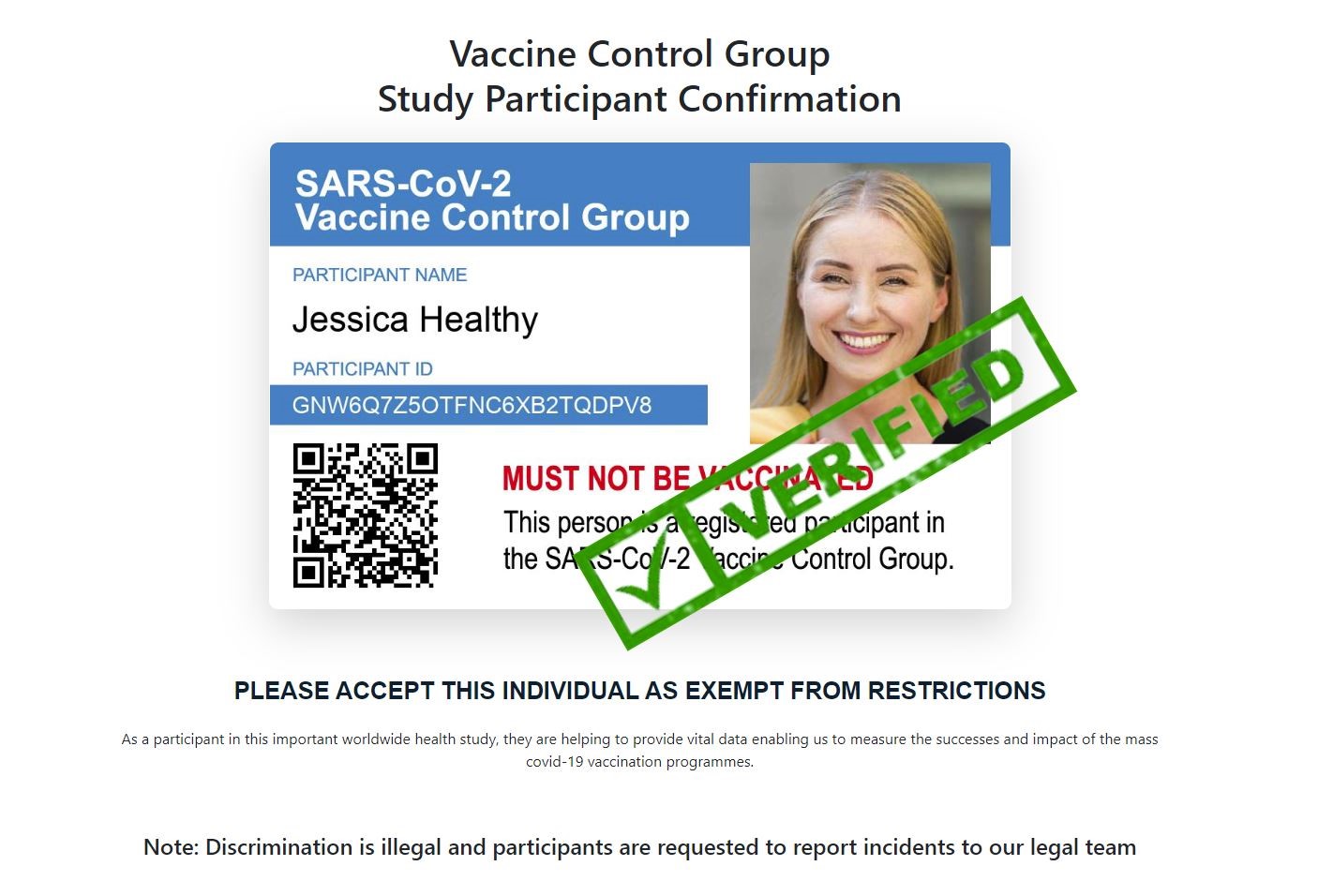 Health Card QR code page
Before the QR code can be displayed, the viewer is asked to agree to the following: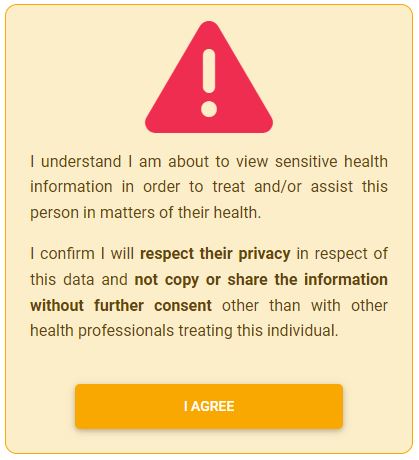 Then your QR page will show only the items from your record that you have chosen to display.
For example: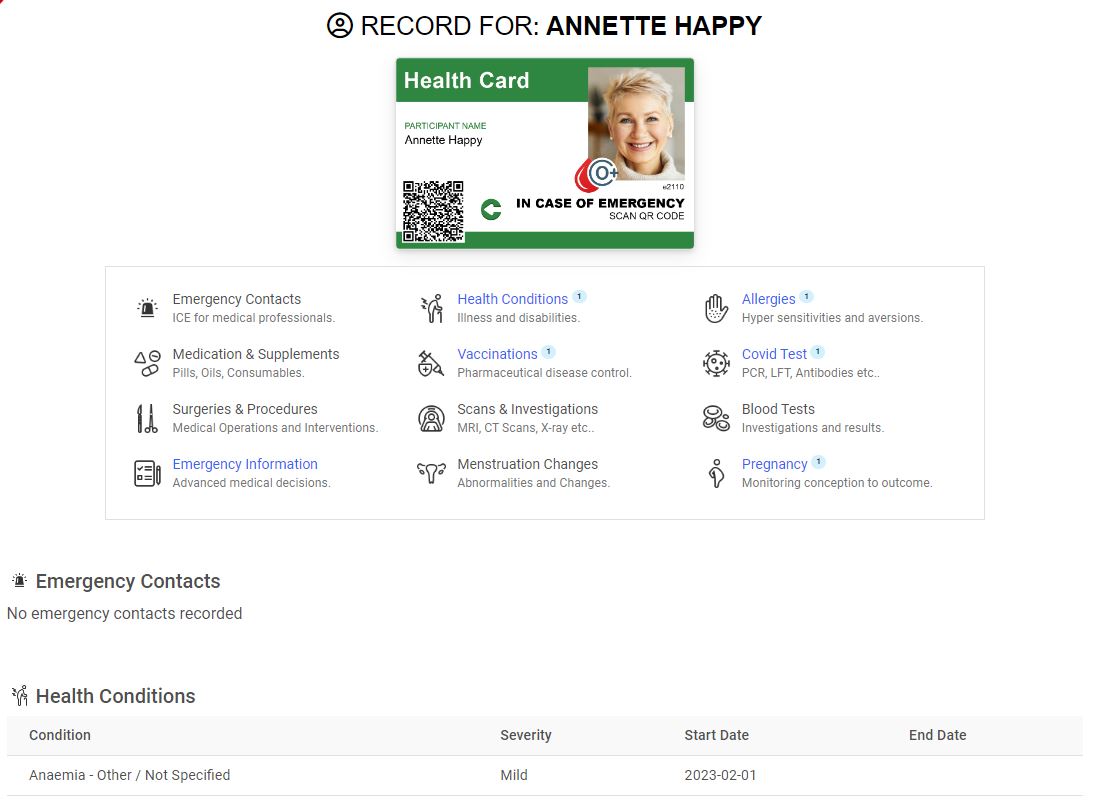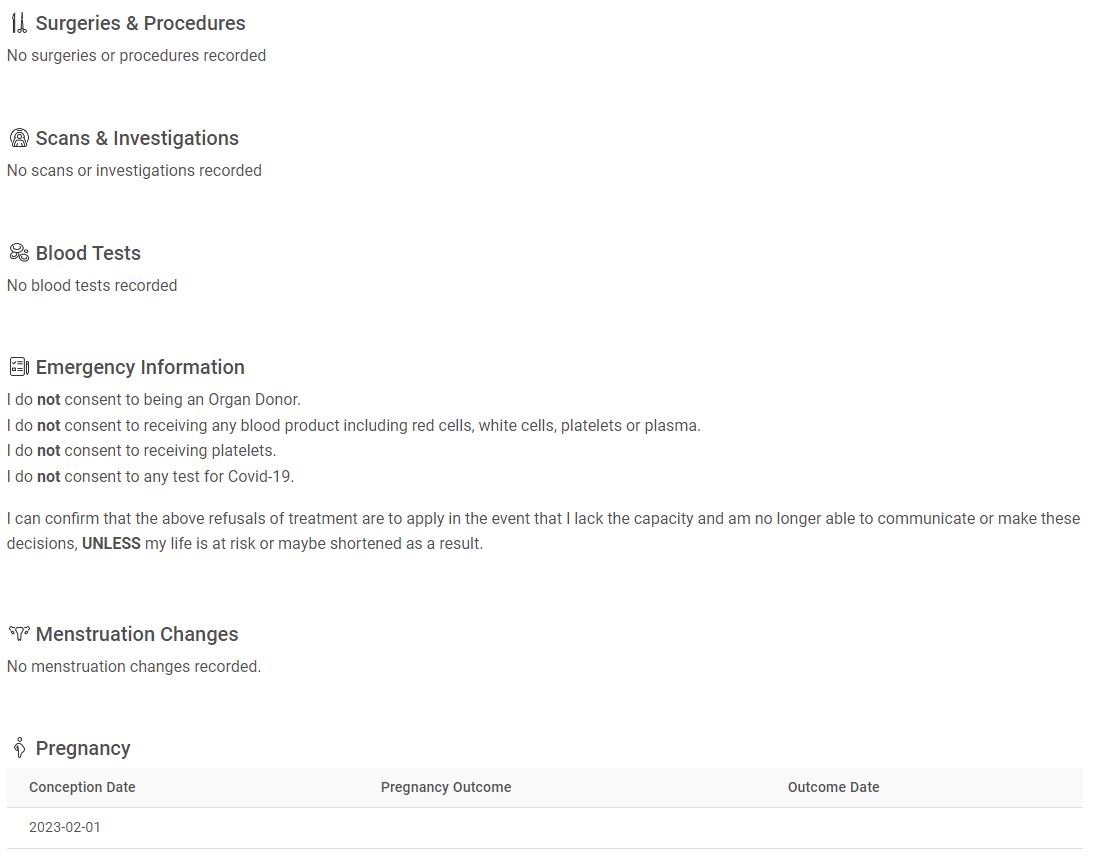 If you lose your card
If you lose any of your cards, you can disable the QR code so it cannot be scanned by anyone who finds it:
Go to your cards
Choose CANCEL for the card you have lost.
The option to Cancel will only be available for cards that have been printed and posted. Before this, you have the option to REMOVE a card, which will permanently delete it from the system.
To reinstate your QR code, you can simply uncancel it.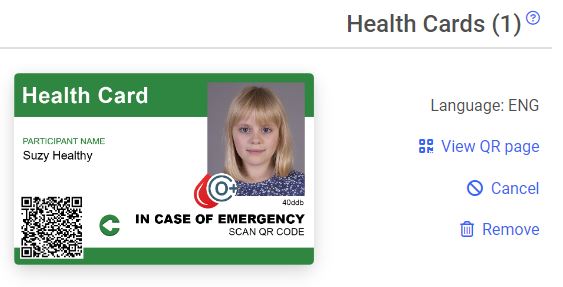 Durable printed cards
As a thank you to our vital, funding Associates, we send them complimentary durable, printed versions of their cards, they simply pay postage and packaging costs.
After setting up your Associate subscription, you will see the green Order button on your Dashboard.
Order your cards
You will find the link to order your cards under the Associate banner - Printed Card Orders
or, scroll to below your participants and click the green ORDER PRINTED CARDS button

Enter your delivery address
Select the cards you want delivered by clicking on them - selected cards show a large green tick - cards without a tick will not be ordered
Press the orange Order Printed Cards button
Postage is charged, so do be sure to order all your cards in one go to make it cheaper.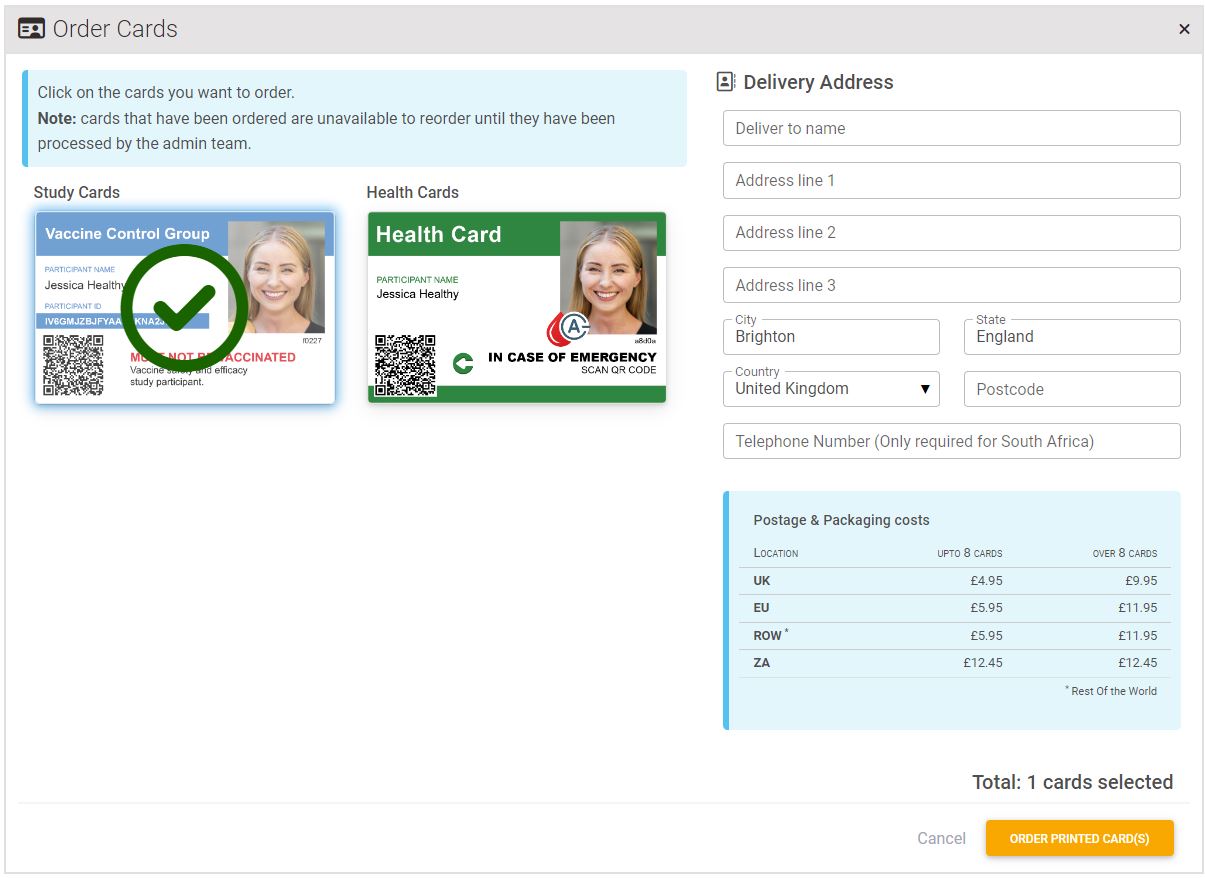 Your card order summary (below the participant cards on the Dashboard) will show all cards ordered.

The status will change to show when the cards have been printed and dispatched.

Postage costs
Postage costs vary depending on your country and the number of cards being ordered. You will find a table listing the costs on the order cards page as shown below.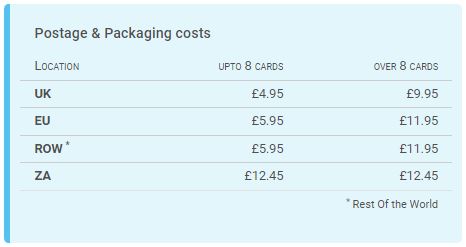 How long do cards take to arrive?
We aim to print and dispatch your cards within 24 hours of you creating them (or 48 over the weekend).
Sometimes it is difficult to source print ribbons and cards, which can slow things down.
Once they have been dispatched, we have no control over the post. Postal services vary, country to country. A useful resource is the Royal Mail https://www.royalmail.com/sending/international/international-standard
We are currently finding that UK / Europe can take up to 3 weeks and other areas up to 6 weeks, so please do not ask us to resend cards until those time periods are up. You can see when your card was dispatched on your Dashboard, below your profile cards .
If you have not received your card within the above time period for your region please contact SUPPORT to let us know and we will print replacement cards.
Do remember that you can use your digital IDs as saved photos or files while your plastic cards are on their way. The QR code will confirm that you are a registered participant of the Control Group.
South Africa
Because of the postage difficulties in South Africa, we print the cards in the country. A higher delivery cost is charged because we have to use couriers, and a telephone number is required for this service.
I have not received my card
Only subscribing Associates can order durable, printed cards.
If you have ordered your card (including entering your delivery address and paying for postage) but it has not arrived in the expected time, please check the following before contacting us.
Have you allowed 24-48 hours after subscribing for your card to be dispatched.
Check for delivery delays by the Royal Mail or your own postal service.
We will not print cards without photos, or with cartoons or other unsuitable images - we will email you if there is an issue with your image
Check you have entered your delivery address correctly
Your payment did not fail
See where your card has been scanned
This is a feature that will be coming soon...