Support: Become an Associate
The Control Group is a completely independent cooperative organization. We do not take funding from pharmaceutical companies, universities or manufacturers of products, and therefore, we have no financial bias towards a particular outcome.
We are able to exist due to the incredible support of our Associate members, who choose to pay a small monthly (or quarterly) subscription, and those people who make generous donations.
Participating in the Control Group is completely free, for those who do not wish to, or cannot afford to pay.
Those who choose to subscribe, become Associate members of the Control Group Coop and are provided with durable, printed Control Group Study and/or the Health Cards at no cost other than a nominal delivery fee.
How much is an Associate subscription?
We have provided 3 different subscription price levels (monthly or quarterly) for you to choose from; enabling you to select a price level that is comfortable for you budget and your support of this initiative. Your generosity helps us to continue to develop our services and secure the future of the Control Group Cooperative for everyone.
Valued member £6 per month / £18 per quarter
Loyal friend £10 per month / £30 per quarter
Avid supporter £15 per month / £30 per quarter
Use the slider to switch between monthly and quarterly subscriptions:

Become an Associate
Select your subscription amount and the payment period
Read and acknowledge the refund policy
(you will be reminded to do this if you forget)
Click the orange SUBSCRIBE button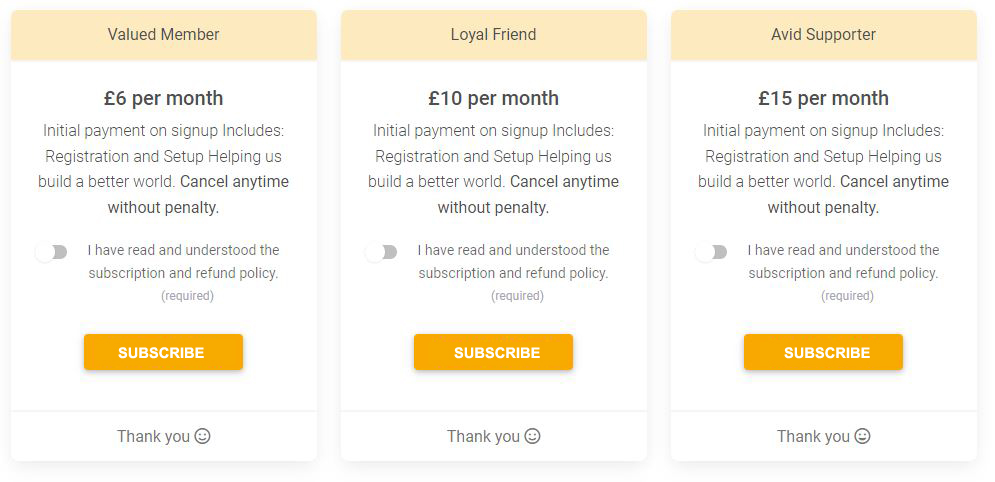 Changing your mind
Subscriptions are non-refundable, but they can be paused, stopped or re-started at any point.
See Subscription refund and cancellation policy for information on how to manage your subscription.
Payment provider
We use Stripe as our payment provider. You do not need to have a Stripe account to pay your subscription, as it accepts most payment cards. At present this is the only payment option we have available, and it was chosen because it works well with our system.
Subscriptions can only be set up by you - the Control Group is unable to set these up on your behalf.
When you click the SUBSCRIBE button, you will need to have your payment card details ready.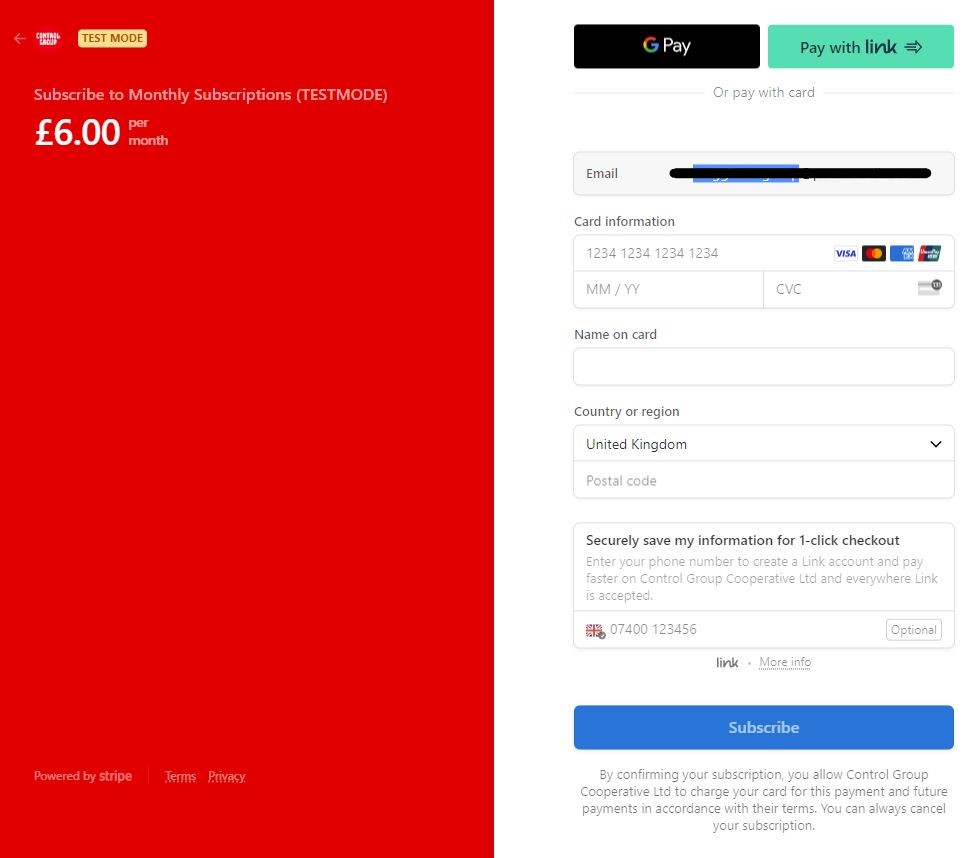 Click Dashboard on the main menu to return
Once you are an Associate member