Support: How to create your Health Records
Once you have created your account, and added any household participants, it is time to create your health records.
It is really important to our study that all participants update their records each month - even if it is just to let us know that they are fine and well, so that we have a consistent picture of the ongoing health of each and every participant, even the healthy ones.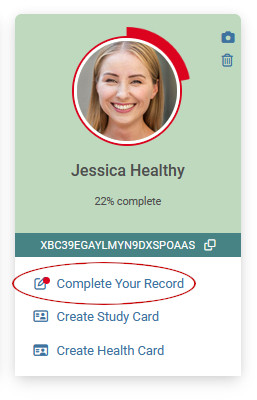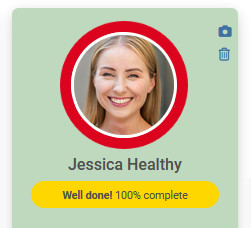 As you complete your health records, your percentage completed will increase, both as a number below your name and visually as a bar around your photo.
The percentage and bar drop down at the beginning of each month, helping to remind you to update your records.
You will be taken to your Health dashboard, which displays a link to each section and reminders in red (in the most frequently used categories) to add your data or indicate that there is nothing to add at this time.
To return to the Participant dashboard, click the X at the top right of the Health dashboard.
You can also add or edit your photograph from here, using the camera icon under your picture
Create cards by clicking on either card icon under your picture.

Next, add your: